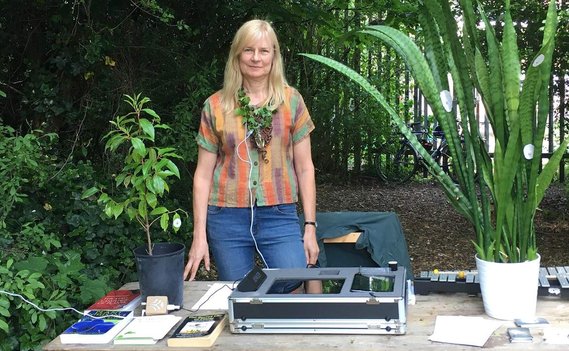 Music from plants

A few years ago I became aware of devices that had been developed to pick up electrical frequencies emitted by plants and turn them into music.

I have put together a kit that I can take to any location and connect to plants and trees. The first public installation of this was in summer 2018 as part of Chelsea Fringe festival in London. It was located at Phytology, a cultural institute based at the Bethnal Green Nature Reserve in Tower Hamlets, East London.
Phytology installation

I became artist in residence on the site for the week of the Chelsea Fringe, an event that runs parallel to the Chelsea Flower Show. I was demonstrating the devices and talking about connection with plants.
As part of the residency artists are able to put a poster on the billboard within the site. Plants have now been scientifically proven to have the attributes listed in the form of a poem.

There are a few different devices available but I use one called Midisprout developed in USA, recently renamed Plantwave, which has a delightfully low tech cardboard casing surrounding the battery powered sensor. This detects slight variations in electrical signals a plant creates via two electrodes placed on the leaves or on the branches or trunk of a tree.

These variations are graphed as a wave and converted to midi data. Other characteristics of the wave change the textural qualities of those sounds. This data can be read by a synthesisier which I have on the phone or ipad, which converts it into musical notes. Another ipad converts it into a visual display. A small speaker amplifies and improves the quality of the sound.

As part of the installation I arranged collaborations with musicians to see how the plants would react. This was with guitarist Alex Lewis who performed with the Mother-in-law's tongue and a hazel growing at the site. Plants react and respond to many environmental influences including sound vibrations so patterns and melodies change in relationship to fluctuations in the environment, different plants create quite different melodies in the same environment.

I also demonstrated the device at a Forest School on the site. The children touched the plants and got a reaction and they experimented with placing the sensors on their hands which created quite different soundscapes.
The experience starts to increase people's awareness of the lives of plants and reignites the feeling of Biophilia, the innate human instinct to connect with living beings in nature. The music also creates a sense of well-being in people and is being used in healing therapies.

Music from Trees

I made these recordings within minutes of each other of 3 different trees in my woodland. Oak, Hornbeam and Field Maple. In general the older the tree the more complex the music tends to be. These trees are around 25 years old. I planted them when I first inhabited the land.